In Memoriam - Norm Mikat - May 12, 2020

TLCC past president and life member Norm Mikat was instrumental in assembling collections of TLCC, TCC and LCCC related memorabilia, both for the club's own collection and for Norm's personal collection (which has been sold). Photo: Norm and Barb, embarking on a cruise vacation!

Norm Mikat speaking about the club's history and memorabilia collection at the May 7, 2002 TLCC regular meeting. The club's memorabilia collection is photographed and cataloged on this website. The first 40 items were added to the web catalog on June 27-28, 2002. The catalog now includes all available souvenir items and other items.
TLCC Numismatic Exhibits: May 2020 virtual meeting
Sample of display items from the May 2020 TLCC virtual meeting:
(Click on small images for a larger version.)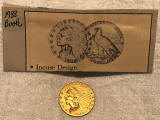 1910 Quarter Eagle ($2.50 gold coin) and page from book noting its incuse design.




Left: 1883 400th Anniversary of Reformation 48mm medal featuring Martin Luther.
Right: 1930 German Graf Zeppelin commemorative 3 mark coin. The owner also has a 5-mark Zeppelin coin and Zeppelin stamps (Scott #C13-18), and reports that these items make a nice exhibit at shows!





Left: York County, Pa. / Seven Valleys 75th anniversary medal (1892-1967).
Right: U.S. Mint 1964-2014 gold commemorative Kennedy half dollar.