Previous < June 2020 > Next





Left: Fort Leonard Wood Post Exchange 5-cent bottle return token. According to wikipedia, "Fort Leonard Wood is a U.S. Army training installation located in the Missouri Ozarks. ... The post was created in December 1940 and named in honor of General Leonard Wood (former Chief of Staff) in January 1941." The token's owner reports, "Memories of Army basic here, before PCS to Ft. Lewis & then 'Nam."
Right: 1965 Western Washington (Puyallup) Fair 50-cent souvenir coin/token. According to the owner, the Fair may have only issued these souvenirs for one year.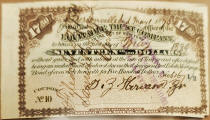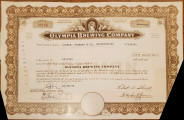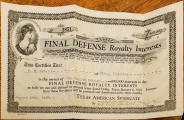 Some interesting financial paper:
Left: Equitable Trust Company, New York, dated May 1880, $17.50 coupon on a real estate mortgage bond.
Center: Olympia Brewing Company stock certificate, dated 06-30-72.
Right: Final Defense Royalty Interests certificate, Texas American Syndicate, dated August 26, 1927, pertaining to oil fields.