TLCC Numismatic Exhibits: April 2020 virtual meeting
Sample of display items from the April 2020 TLCC virtual meeting:
(Click on small images for a larger version.)

$1 1935A Experimental (R) Silver Certificate star note, Fr#1609*.
Only 12,000 of these were issued, according to BEP records.
PMG graded Fine 12.




Project Apollo 50th anniversary commemorative medals:
Apollo 11 and Apollo 13 with common reverse.
"Back to the Moon ... On to Mars"
Made with flown materials from Apollo command module and Mars Curiosity engineering metals.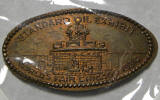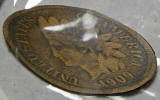 1934 Standard Oil Exhibit at Chicago World's Fair elongated on a 1909 Indian Head Cent.





A couple of local (but not high-value) tokens:
Owl Billiards (Seattle) 5 cents & Blackmans Big Upstairs Store (Tacoma) $1.