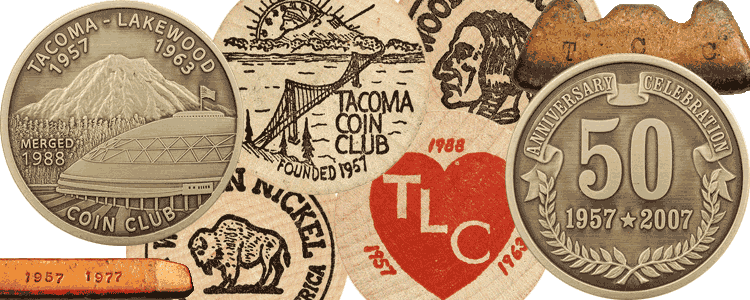 Tacoma-Lakewood Coin Club
TLCC is a non-profit corporation registered in the State of Washington.
Address: TLCC c/o Todd Hughes, 1910 East 4th Ave #41, Olympia, WA 98506.









For other coin shows and numismatic events in the Pacific Northwest, see the PNNA calendar.
Hours:
Coin shows are open to the public from 10 AM until at least 4 PM unless otherwise indicated.
Regular club meetings: 7:00 PM to 9:00 PM. Doors open at 6:30 PM.
Business meetings: 7:30 PM to 9:00 PM; 6:30 PM if preceding regular meeting.
See the driving directions (regular meetings and coin shows). Regular meeting location: Greater Lakes Mental Healthcare Center, 9330 59th Ave SW, Lakewood, Washington.
Keep in mind that events may occasionally be subject to changes or cancellations. Check this website the day of the event for any last-minute updates. Regional and national events are listed for the convenience of members who may wish to attend these events. See the linked websites for more information and updates, and make your travel plans well in advance.
TLCC members can submit up to five items for auction at most meetings - see the TLCC auction form.
Need coin show advice? — See the PNNA's reference section.
Please contact club president Todd Hughes (officers page) if you would like more information about club events.
TLCC Calendar (Regular Meetings)


Location: Greater Lakes Mental Healthcare, 9330 59th Ave SW, Lakewood, WA

Date
Event
Meeting Program Topic

Club meetings returned to the GLMHC facility beginning in May 2015, however, the meetings were on the 3rd Tuesday instead of the 1st Tuesday of each month except July.
GLMHC was temporarily unavailable from August-December 2019, so club meetings were held at Lakewood Community Center, 9112 Lakewood Drive SW, from August to November 2019, on the 2nd Tuesday.
The December 2019 meeting was held at a restaurant.
Club meetings returned to GLMHC in 2020, on the 2nd Tuesday, at 7 p.m. However, all 2020 meetings after March were cancelled.
As of March 16, 2021, the club has started having online meetings via Zoom, on the 3rd Tuesday.

2021
Regular meetings to be announced when it's safe to meet again at Greater Lakes Mental Healthcare. All meetings until then will be online.
Regular club meetings normally include announcements, refreshments, show & tell, drawings and an auction in addition to any featured program or speaker.
JUL 31
TLCC private get-together
No formal program.
AUG 17
TLCC Online Meeting via Zoom
Joe Boling, "the Warrington faker," about false overprints on banknotes.
Return to TLCC home page
TLCC Calendar (Business Meetings)


Location: as announced.

Date
Event
As needed
TLCC business meetings are held as needed to satisfy business requirements. Occasionally a short business meeting will be held before the start of a regular monthly meeting. Please contact club president Todd Hughes (officers page) if you would like to be invited to the business meetings, or have a subject to discuss. (TLCC membership may be required.)
Return to TLCC home page