December Holiday Party — The TLCC's December 5 monthly meeting continued the tradition of a holiday party catered by TLCC members Bonnie and Mike Zagorin. The food was excellent! Season's Greetings, and we'll see you again at our meetings and coin shows in 2007!
It's Over! TACOMA-LAKEWOOD COIN CLUB 36TH SEMI-ANNUAL SHOW – The TLCC's 36th Semi-Annual Coin Show was held October 28, 2006 (Saturday only!) at the King Oscar Convention Center in South Tacoma.


TLCC 50th Anniversary Celebration (1957-2007) – The TLCC will commemorate its 50th anniversary with a medal to be produced by the Northwest Territorial Mint using the design shown here. We are planning to mint 100 serially numbered silver/bronze prooflike medal sets, plus 100 unnumbered bronze medals with an antique finish.
See actual medal photographs in the club's memorabilia catalog.
© Northwest Territorial Mint and TLCC (obverse logo). Unauthorized use prohibited.
"What are you going to do when you're too old to collect? – What do you do with your gems/junk?" was the program topic at August 1 club meeting. Dave Schmidt was the discussion leader.
TLCC annual summer social/dessert party (preceded by a business meeting) was held Tuesday, July 18.

TLCC members had the opportunity to showcase a different hobby at the May 2 club meeting – The program/display topic was "Anything But Coins." Shown here is Ron Ahre with his banjo.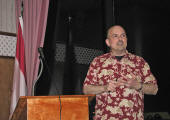 TLCC annual banquet was held on Tuesday April 4 at the Tacoma Elks Lodge. Steve Cox (photo at right), president of the Seattle Numismatic Society, spoke on the topic of "Art in Numismatics." See more photos.
The March 7 TLCC meeting featured a 21-question numismatic quiz with prizes based on how many correct answers you had! We hope you gave it a try!!
TACOMA-LAKEWOOD COIN CLUB 35TH SEMI-ANNUAL SHOW – The TLCC's 35th Semi-Annual Coin Show was held March 11-12, 2006 at the King Oscar Convention Center in South Tacoma. The next TLCC show will be in October.
The February 7 TLCC meeting program featured Todd Imhof from Pinnacle Rarities discussing the coin market and the WA State Quarter Commission! This was a program not to be missed!!
The January 3, 2006 TLCC meeting program topic was "Sassanid coins" by Charles W. Heckman. If you missed it, you missed a surprisingly interesting talk with example coins!