TLCC Numismatic Exhibits: April 2012 meeting
Sample display items from the April 2012 TLCC regular meeting:
(Click on small images for a larger version.)







1792 set of British Maundy coinage, including an obverse image depicting King George III.




1962 Seattle World's Fair (Century 21 Expo) related items:
Century 21 pin, original State of Washington oval medal, 2012 50th anniversary medal.
See January and March displays for additional Seattle World's Fair items.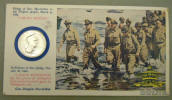 Left: General Douglas MacArthur medal and souvenir card from Philippine Pavilion at New York World's Fair.
Right: 2003 50 Euro Cent coin.




Left: God Bless Nurses medallion.
Right: American Bowling Congress bowling medal.