TLCC Numismatic Exhibits: April 2021 virtual meeting
Sample of display items from the April 2021 TLCC virtual/online meeting:
(Click on small images for a larger version, if available.)



1971-D Jefferson Nickel error, NGC MS67:
Struck thru struck fragments, showing part of reverse design.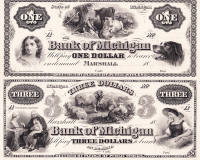 Bank of Michigan $1 and $3 banknotes from the 1800s. These were reportedly once owned by Norm Mikat when he owned a coin shop in Michigan. Norm passed away in 2020 - see the memorial on the homepage.