TLCC Numismatic Exhibits: August 2014 meeting
Sample of attendees and display items from the August 2014 TLCC regular meeting:
(Click on small images for a larger version.)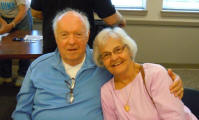 The honeymooners! Congratulations!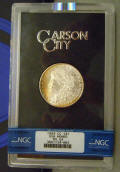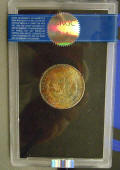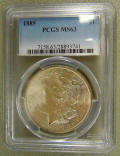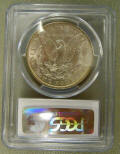 Left: 1884-CC Morgan Dollar certified in original GSA holder.
Right: "1885" PCGS certified Morgan Dollar that's really an 1886!





2014 U.S. Mint Baseball commemorative coins (half-dollar and dollar) with "dome" shape.





Left: 1947 ANA Anniversary Convention, Buffalo, NY commemorative medal.
Reverse commemorates the 20th anniversary of the Buffalo Numismatic Association.
Right: Ephrata High School "Tigers" 100th anniversary commemorative "challenge coin."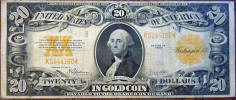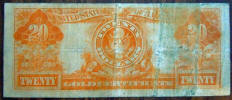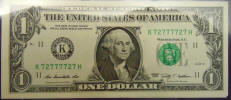 Top: 1922 $20 U.S. Gold Certificate.
Bottom: 2009 $1 bill with palindrome serial number; also with six sevens!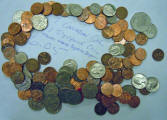 Left: 1870 Liberty Seated Half Dollar in poor damaged condition.
Right: Mike's "Roadkill" collection!



Statue of Liberty copper round; same thickness of copper as the statue (3/32").