TLCC Numismatic Exhibits: May 2014 meeting
Sample display items from the May 2014 TLCC regular meeting:
(Click on small images for a larger version.)
March 5-7, 2015 ANA National Money Show official medal featuring Portlandia - see PNNA catalog.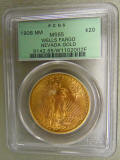 1908 St. Gaudens $20 gold coin (Double Eagle), No Motto variety, from the Wells Fargo Nevada Gold hoard.
PCGS MS65.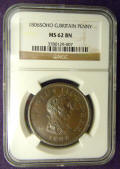 Left: 1757 Great Britain George II sixpence, KM# 582.2.
Right: 1806 Great Britain Soho Mint penny, NGC MS 62 BN (brown).





Left: 1844 Province of Canada Bank of Montreal halfpenny bank token.
Right: 1908 U.S. Mint one peso coin for the Philippines.




Left: 1961 Great Britain Elizabeth II penny, KM# 897. (Unsure why color isn't bronze.)
Right: 1974 Canadian dollar, Winnipeg centennial commemorative.





Left: 1974 Köhlbrand Bridge (Köhlbrandbrücke, a cable-stayed bridge in Hamburg, Germany)
bridge opening commemorative medal.
Right: 1975 New Elbe Tunnel (Neuer Elbtunnel, often called Elbtunnel in English,
Elbe river crossing in northern Germany) tunnel opening commemorative medal.





Left: 1826 Erie Canal completion medal, So-Called Dollar HK (Hibler and Kappen) #1.
Right: Mercury VIII space mission commemorative medal.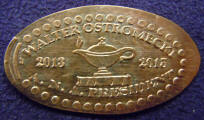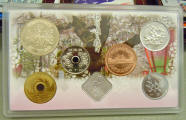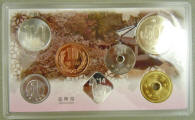 Left: Walter Ostromecki, ANA President (2013-2015) elongated cent.
Right: 2014 Japan 7-coin mint set.