TLCC Numismatic Exhibits: April 2014 meeting
Sample display items from the April 2014 TLCC regular meeting:
(Click on small images for a larger version.)





Left: Ancient coin of Alexander the Great?
Right: English hammered coin (#7 in a series shown at TLCC meetings).





Left: English "penny model" from the Queen Victoria era.
Right: 2012 UK 50 pence London Olympic commemorative coin depicting boxing.





Left: U.S. Grant (1822-1885) commemorative medal.
Right: Safe Boats International of Bremerton/Tacoma challenge coin or medal.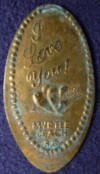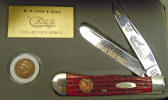 Left: Old Rare Coins book with illustrated plate.
Center: Myrtle Beach, S.C. elongated cent.
Right: W.R. Case & Sons "Indian Head Penny" commemorative coin/pocket knife set.