TLCC Numismatic Exhibits: March 2013 meeting
Sample displayers and display items from the March 2013 TLCC regular meeting:
(Click on small images for a larger version.)




Frank B. and his ANA 40-year membership pin and 50-year membership medal (last name blurred).





Left: 1820-1920 Maine Centennial commemorative half dollar.
Center: 1932 George Washington bicentennial medal with Indian Motorcycle reverse.
Right: 1990 Last home of President Dwight D. Eisenhower commemorative medal.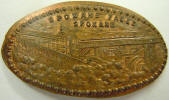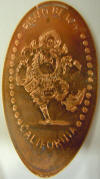 Left: Spokane Falls elongated cent.
Center: Pismo Beach, California elongated cent.
Right: Bimetallic "Control Token ... No Cash Value."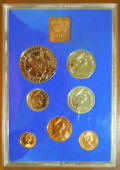 Left: U.S. gold coin type set ($1, $2.50, $5, $10 and $20).
Right: 1977 United Kingdom 7-coin proof set.