TLCC Numismatic Exhibits: January 2013 meeting
Sample display items from the January 2013 TLCC regular meeting:
(Click on small images for a larger version.)





Left: 1797 English (Great Britain) 2 penny coin, PCGS AU50.
Center: 1881-S Morgan Dollar, NGC MS67.
Right: 1965 South African coin.





Left: 1988 Mexican 1000 pesos coin.
Right: 2010 Austrian commemorative bimetallic coin.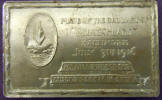 Top left/center: Guest speaker Dick Billings and Saxony porcelain notgeld set.
Top right: 1916 bar made from ballast of U (boat) Deutschland "for the benefit of the prisoners of war in Siberia."
Bottom left: 1922 German 500 mark notgeld (book illustration).
Bottom right: Sinking of the Lusitania commemorative medal (book illustration).





Left: Norm wearing his Eagle Scout regalia!
Center: 1947 1st Edition "Red Book" (A Guide Book of United States Coins).
Right: 2013 Washington State Parks Centennial / Lake Chelan State Park medallion.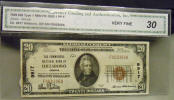 1929 Hillsboro, Oregon $20 National Bank Note, CGA VF30.