TLCC Numismatic Exhibits: September 2012 meeting
Sample displayers & display items from the September 2012 TLCC regular meeting:
(Click on small images for a larger version.)


Longtime TLCC member Bob Kinsedahl shows one of his Oriental tatoos!





Left: 1883 Trade Dollar, NGC PF 65 Cameo.
Right: 1864 Two Cent Piece (Large Motto), PCGS MS65RD with CAC sticker.





Left: 1834 Great Britain William IV 1-1/2 pence coin (KM# 719).
Right: 2000 Iceland 1000 Kroner coin commemorating Leif Ericson, PCGS PR69DCAM.





Left: Fitzgeralds (Reno, NV) Limited Edition Ten Dollar Gaming Token.
Right: Air Force Flight Test Center, Edwards AFB, CA challenge coin.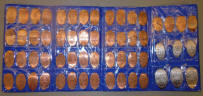 Left: Chinese cash coin.
Center: Disney "Magical Milestones" 1955-2005 "Penny Press" (elongated) Collection Book.
Right: 1976 Bicentennial Ike Dollar in Louis Rukeyser (of Wall Street Week) signature holder.