TLCC Numismatic Exhibits: September 2011 meeting
Sample display items from the September 2011 TLCC regular meeting:
(Click on small images for a larger version.)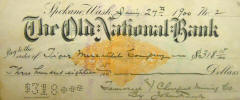 Left: The Old National Bank, Spokane, WA, 1900-dated check.
Right: 9-11 Tenth Anniversary commemorative medal - Never Forget.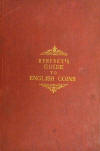 Left to right: Mehl's Numismatic Monthly (September 1909); Coins of the World (Jenks Collection, cataloged by Henry Chapman, 1921); Walter Breen's Complete Encyclopedia of U.S. and Colonial Coins; Henfrey's Guide to English Coins;
The Medallic History of England (illustrated by forty plates, John Pinkerton).





Left: Standard Catalog of World Coins (Deluxe ANA Centennial Edition, 1991).
Center: A Collector's Guide to Postage & Fractional Currency (Robert J. Kravitz).
Right: The Elongated Collector (Dottie Dow) and Yesterday's Elongateds (Lee Martin and Dottie Dow).





Left: Henry Hudson and Robert Fulton commemorative medal.
Right: French Memorial de Caen medal. The Battle for Caen from June-August 1944 was a battle between Allied
(primarily British and Canadian troops) and German forces during the Battle of Normandy.





Left: Red Lodge, Montana Festival of Nations 25 years (1950-1975) commemorative medal.
Right: Beanie Babies Original Nine commemorative medal (1999) featuring "Chocolate."