TLCC Numismatic Exhibits: June 2011 meeting
Sample display items from the June 2011 TLCC regular meeting:
(Click on small images for a larger version.)






Left: 1793 Half Cent, PCGS VF20.
Center: 1797 10X6 Lg. Letters Silver Dollar, BB-71, B-3, NGC VF25.
Right: 1798 Large Eagle Silver Dollar, PCGS VF35.





Left: Morgan dollar reverse in PCGS holder.
Left center: 1900 Lafayette dollar in PCGS "Genuine Not Gradable" holder.
Center: 1912 $10 gold piece (Eagle), PCGS MS62.
Right: 1900 $5 gold piece (Half Eagle), ICG MS64.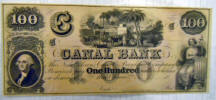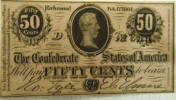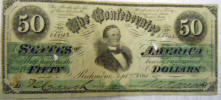 Left: Canal Bank $100 banknote.
Center: 1864 Confederate 50 cent banknote.
Right: 1861 Confederate $50 banknote.




Left: UK (Great Britain) George V six-coin set including crown.
Center: A UJO ... "Unidentified Jewelry Object!"
Right: Canadian 1-ounce silver Maple Leaf, proof edition.





Left: "Gallarus Oratory" elongated coin.
Center: Two examples of 1994-P doubled die obverse (notice the ear) Kennedy half dollar.
Right: 1978 doubled die reverse Kennedy half dollar.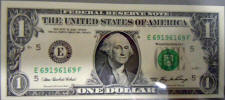 Left: 1776 Delaware 20 shillings colonial banknote.
Right: $1 bill (Federal Reserve Note) with interesting serial number containing overlapping 5-digit palendromes.