TLCC Exhibits: November 2010 meeting
Sample display items from the November 2010 TLCC regular meeting:
(Click on small images for a larger version.)






Left: 1920 Pilgrim Tercentenary Half Dollar with unusual coloring and/or lighting.
Left Center: 1905 Lewis and Clark Centennial Expo (Portland, OR) medal or so-called dollar?
Right Center: 1900 Great Britain (UK) Trade Dollar, KM# T5.
Right: UK? ten pence coin with two lions.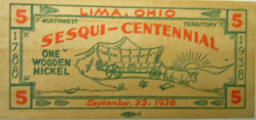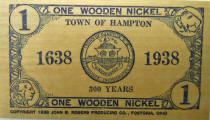 Left: Sambo's U.S. Bicentennial "Good For" wooden nickel – Bremerton, WA.
Center: 1938 Lima, Ohio sesquicentennial wooden nickel.
Right: 1938 Hampton, New Hampshire tercentenary wooden nickel.





Left: Replica of U.S. seal owned by George Washington – issued by The Mount Vernon Ladies Association.
Right: 2011 Canadian $15 coin commemorating the Chinese year of the rabbit.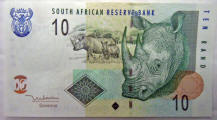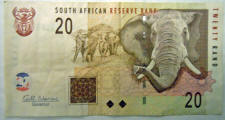 Left: South Africa bimetallic 5 rand coin depicting a wildebeest, KM# 281 or 297.
Center: South Africa 10 and 20 rand banknotes depicting rhino and elephant.
Right: 1983 The Great Astoria (WA) Crab and Seafood Festival commemorative medal.