TLCC Exhibits: May 2010 meeting
Sample display items from the May 2010 TLCC regular meeting:
(Click on small images for a larger version.)





Left: Two "Medieval Bractates," as presented by guest speaker Scott Loos.
Right: 1653 Commonwealth of England shilling.






Left: 1987 Greenland 5 piaster polar bear coin.
Middle: 1975 Zaire proof coins — 10 Makuta and 5 Zaires with conservation theme.
Right: 2008 Galápagos Islands bi-metallic item (uncertain if it's an actual coin).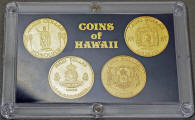 Left: "Coins of Hawaii" four-piece set.
Middle: 1988 Tall Ships / Grays Harbor Coin Club / Aberdeen limited edition medal.
Right: 1977 Boeing Employees Coin Club Jetfoil medal set, including 1.5-oz. gold medal.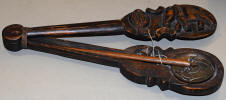 Left: Portable coin scale, as shown by owner!
Middle Right: Chinese cash coin from early 20th Century, but not sure which one.
Right: 2010 Boy Scouts of America centennial commemorative dollar (proof).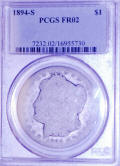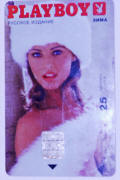 Two ladies, one badly worn (PCGS Fair 02), the other not!
The item with the famous men's magazine name is actually a Russian phone card.