TLCC Exhibits: March 2010 meeting
Sample display items from the March 2010 TLCC regular meeting:
(Click on small images for a larger version.)



Left: 1901 Barber Half, NGC AU-58 in new style holder for edge visibility.






Left: 1846-A French franc of Louis Philippe I, King of France.
Center: 1797 British George III "cartwheel" penny (or two pence?) – Soho Mint.
Right: 1763 British George III shilling.



Canada 1908-1998 90th anniversary of Royal Canadian Mint matte proof set.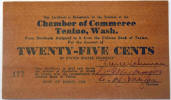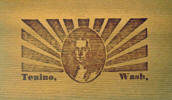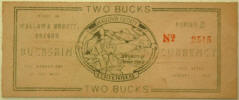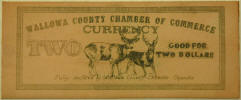 Top: 1932 Tenino, WA wooden money (25 cents).
Bottom: Wallowa County, OR centennial souvenir "two bucks" buckskin currency.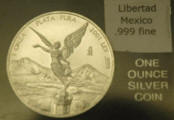 Top Left: Imperio Mexicano coin with crowned eagle.
Top Center/Right: 2001 Mexican 1-ounce silver "Onza" bullion coin.
Bottom Left/Center: Proof 1982 Canadian dollar commemorating centennial of Regina, Saskatchewan.
Bottom Right: 1976 Canadian Olympic coins for Montreal Summer Games (partial set).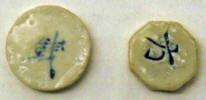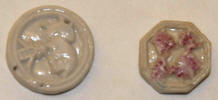 Left: Unidentified Oriental/Asian porcelain tokens.
Right: Unidentified Chinese coin-like item or token with dragon on obverse.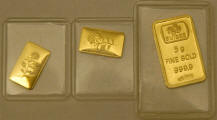 Top Left: Suisse Bank gold bullion bars (largest is 5g).
Top Right: Rainforest Cafe, Las Vegas, NV elongated cent featuring a beaver.
Bottom Left/Center: Dole Plantation, Wahiawa, HI commemorative medallion.
Bottom Right: 1950 Boy Scouts of America National Jamboree at Valley Forge commemorative medallion
– George Washington.