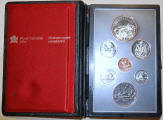 Left: 1980 Canadian proof or specimen set.
Left center: 1956 Canadian cent, PCGS PL67RD.
Right center: 1937 medal commemorating Sesquicentennial (1787-1937) of U.S. Constitution.
Right: 1931-S Mercury Dime, PCGS MS62.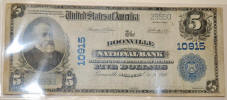 Left: Pamphlet on "Coin Mottoes and Their Translations," reprinted from 1948 The Numismatist.
Left center: 1916 $5 Boonville, Missouri National Bank Note.
Right center: "Senior Citizen Money Clip."
Right: $5 and $10 Federal Reserve Notes with errors (fold and improper cut).