TLCC Numismatic Exhibits: August 2008 meeting
Sample display items from the August 2008 TLCC regular meeting:
(Click on small images for a larger version.)



Left: 1862 U.S. Fractional Currency 10-cent note with George Washington (Fr #1240).







Top: 1923 Danzig 5 and 10 pfennig coins.
Bottom: German Arbeitslager-Wittelbau "wertmarke" note.





Left: 1897 Barber Dime, PCGS MS62.
Right: 1965 Western Washington Fair (Puyallup Fair) souvenir 50-cent coin.




Left: United States Coast Guard Eagle commemorative medal.
Right: Hexagonal one ounce "silver trade unit" featuring eagle and Liberty Bell.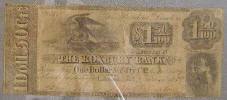 Left: 2000 Lincoln Cent "Extra Beard" variety.
Center: The Roxbury Bank $1.50 banknote from the 1800's.
Right: 2008 South Africa 50 rand gold coin depicting elephants.