TLCC Numismatic Exhibits: December 2007 meeting
Sample display items from the December 2007 TLCC regular meeting:
(Click on small images for a larger version.)




Left: 1918 Canadian 5-cent coin with attractive reverse toning.
Right: 1870 Canadian 50-cent coin.




Left: Federal Air Marshals (Seattle Office) "challenge coin."
Right: Unusual French medal with a space theme (note astronauts at upper left).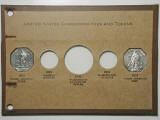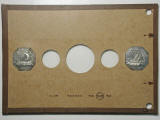 Page from early coin album for "United States Commemoratives and Tokens."
This page is for the coins other than half dollars, including the two Norse American "tokens."