TLCC Numismatic Exhibits: August 2006 meeting
Sample display items from the August 2006 TLCC regular meeting:
(Click on small images for a larger version.)






Left: 1901-S $10 Gold Coin (Eagle), ANI MS-62.
Right: 2006 American Buffalo One Ounce Gold Proof Coin.





Right: 1947-S Philippines 50 centavos coin, during period of US control.
Depicts General Douglas Macarthur.
Right: Medal honoring Alfred Nobel and the Nobel Prizes.





Left: 1984 Los Angeles Olympic Games athletes/officials participation medal.
Right: 2008 Beijing Olympic Games souvenir medal.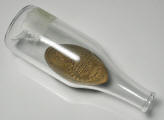 War Savings Bonds "penny in a bottle" elongated cent made from a "wheatear" Lincoln Cent.