TLCC Numismatic Exhibits: February 2006 meeting
Sample display items from the February 2006 TLCC regular meeting:
(Click on small images for a larger version.)





Left: Copy of 1977 pattern dollar design by Frank Gasparro.
Right: 1985 Mexican silver 1 onza bullion coin.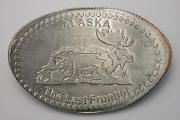 Left: Alaska - The Last Frontier elongated coin.
Right: Royal Canadian Mounted Police plaque.
And now a few items displayed by TLCC members at the new South King County Coin Club:






Left: Medal commemorating 1898 Trans-Mississippi and International Exposition.
Center: Apollo 11 sterling silver commemorative medal by Hayward.
Right: "Lucky Penny" paperweight with New Mexico - Road Runner theme on reverse.