TLCC Numismatic Exhibits: January 2006 meeting
Sample display items from the January 2006 TLCC regular meeting:
(Click on small images for a larger version.)





Left: 1878 7/8TF Morgan Dollar, NGC MS-63 PL.
Right: 1885-CC Morgan Dollar, PCGS VF-30 (unusually low grade for this date/mint!)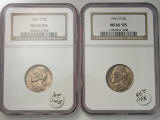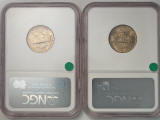 Left: 1941-D Jefferson Nickels, NGC MS-65/66 5FS (Full Steps)!
Right: 1941-D Jefferson Nickel, INB Gem MS-70, but with minor spots/surface marks!





Left: 1895 Barber Dime, PCGS PR-62 CAM (Cameo).
Right: 2004-P Michigan Quarter with missing outer clad layer (on Washington side).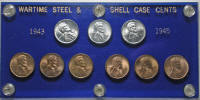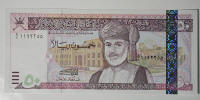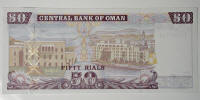 Top Left: Set of Wartime steel & shell case Lincoln Cents.
Top Center/Right: Oman 50 rials banknote.
Bottom: World War II U.S. coin, stamp and medal set.





Left to right: Three old (ancient?) coins; Puyallup 1890-1990 Centennial medal; 2005 Elvis-a-Rama elongated cent; Apollo 11 35th anniversary medal from Brooks City Air Base; Space Shuttle silver "mini-medal" series from Galaxy Medals; 2006 Chinese 1 ounce silver Panda bullion coin.