TLCC Numismatic Exhibits: December 2005 meeting
Sample display items from the December 2005 TLCC regular meeting:
(Click on small images for a larger version.)




Left: 1894 Quarter, PCGS PR-64.
Right: 1893 World's Columbian Exposition medal in box.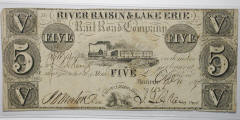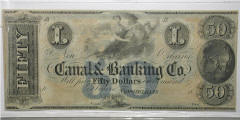 Left: 1837 River Raisin & Lake Erie Railroad Company $5 note.
Right: 18__ Canal & Banking Company of New Orleans $50 note.





Left: 1907 (MCMVII) St. Gaudens High-Relief $20 gold coin, SEGS MS-61.
Right: 1915 restrike Austrian 20 Corona gold coin.






Left: 1887 enameled British coin: King George slaying the dragon.
Left Center: 1921 Alabama commemorative half dollar.
Right Center: Lewis and Clark Bicentennial BEP souvenir cards from 2004 ANA convention.
Right: Prudential Savings & Loan Association (Seattle) bank.