TLCC Numismatic Exhibits: December 2004 meeting
Sample display items from the December 2004 TLCC regular meeting:
(Click on small images for a larger version.)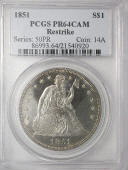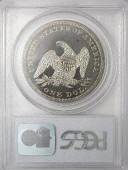 1851 Seated Liberty Dollar Restrike, PCGS PR64CAM, "Red Book" plate coin!





Gallery Mint copies of 1793 "Strawberry Leaf" cent, new and with darkening applied!




Left: Good For $1.00 trade token, 49'er Bar and Steak House, Ketchikan, Alaska.
Right: Good for $20.00 trade token, Alaska Boosters Association, 1962.





Left: Protestant Board of School Commissioners for the City of Montreal, William Murray Prize medal.
Right: encased 3-cent postage advertising Ayer's Sarsaparilla, patented 1862.