TLCC Numismatic Exhibits: November 2004 meeting
Sample display items from the November 2004 TLCC regular meeting:
(Click on small images for a larger version.)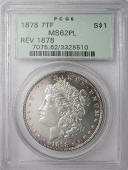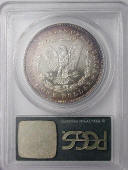 1878 7 Tail Feathers variety of Morgan Dollar, PCGS MS62PL (Proof Like).
This coin was part of the 20-coin grading program at the November 2004 meeting.




Left: German language "Moonlanding of Mankind" plaque similar in design to a German Apollo 11 medal.
Center, Right: Gold bracelet engraved with reference to Indian Girl Mine.