The TLCC Memorabilia Catalog
Page M3 - Other Miscellaneous Items - Index | Previous Page
Click on the thumbnail images for a larger version. Copyright information.
If you have any items that are missing here, please contact Norm Mikat.

M-9 Tacoma Coin Club first logo.
Large size (13½ inch) color artwork on cardboard with string attached.

M-10 Large size (8½ inch) artwork in plaster for U.S. Washington Quarter Bicentennial reverse design competition (prior to 1975-1976 issue). Prepared by Chris Gripor, presumably a member of the TCC and/or the LCCC. Sample quarter of the selected "drummer boy" design attached to back with tape.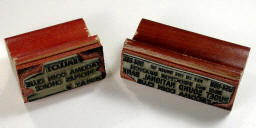 M-11a,b Tacoma Coin Club rubber stamps.
a. BALLOT / TACOMA COIN CLUB / PEOPLES CHOICE / DISPLAY # ____ (1-1/8 D x 1½ H x 1¾ L inches)
b. PAY TO THE ORDER OF / 26th and PROCTOR BRANCH / PUGET SOUND NATIONAL BANK / TACOMA COIN CLUB (also includes account number) (1 D x 1½ H x 2½ L inches)


M-12 Coin collector medal with encased German 1 pfennig coin presented to Tacoma Coin Club by George Salter upon leaving in 1966 to move to Florida.