The TLCC Memorabilia Catalog
Page A1 - 1959 to 1988 Awards - Index | Next Page
Click on the thumbnail images for a larger version. Copyright information.

1959
A59-1 TCC First Past President award presented to Franklyn Enearl,
donated in memoriam by Laura Enearl.
Tie clip with symbolic gavel on chain (1¾ x 2-3/8 inches).
Image modified to remove street address from label.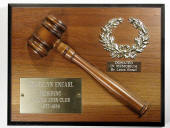 1959
A59-2 Award presented to Franklyn Enearl, President, Tacoma Coin Club, 1957-1959, donated in memoriam by Laura Enearl.
Wood plaque (7 x 9 inches) with gavel, metal nameplate, wreath and nameplate in recognition of donation.

1962
A62-1 Certificate of Merit presented by Tacoma Coin Club "to George T. Booth in grateful recognition and appreciation of faithful and exceptional service. First Place Winner - National Coin Week 1962." Presented May 25, 1962 by John W. Kiewik, President. Certificate (8½ x 10½ inches) with club logo and purple first place ribbon (2 x 7¾ inches).


1975
A75-1 Exhibitors Award, Numismatic Display, Tacoma Coin Club, Annual Show 1975.
1957 Washington Quarter on black foam in a 2-5/8 x 3-5/8 inch hinged plastic holder with snap closure. Also see related A75-2 item below.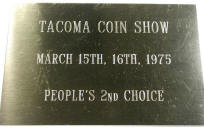 1975
A75-2 Exhibitors Award, Tacoma Coin Show, March 15-16, 1975, People's 2nd Choice.
Engraved metal plate, 3-3/8 x 5 inches.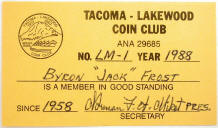 1988
A88-1 Tacoma-Lakewood Coin Club, Life Member #1 (LM-1) membership card awarded to Byron "Jack" Frost, member of Tacoma Coin Club since 1958, signed by Norman F.A. Mikat, President. Yellow card with new TLCC logo, 2 x 3½ inches.
This is considered an award because of Jack's special status as the earliest surviving member of either club at the time of merger.